Enchiladas are the beautiful type of meal that is hard to mess up. This is why they're a gem for cooking newbies; just wrap something in a tortilla, cover it with sauce and cheese, and bake it. It will be delicious. It's kind of like a stir fry: you add whatever you want, and somehow, it works.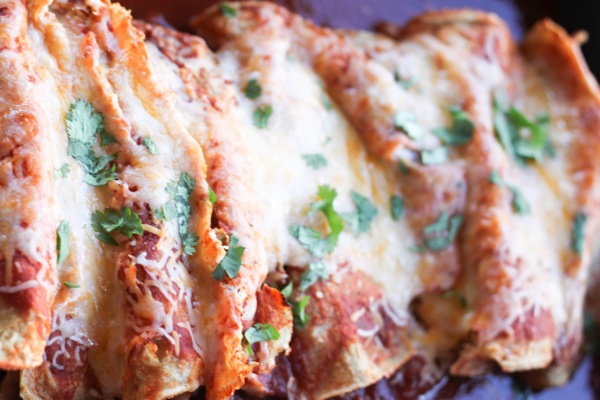 When I first started cooking for our little family, I had a little bit of a rough time. Certain meals didn't work out very well -and we ended up getting takeout- and it took me eighteen years to chop a bell pepper. Enchiladas were one of the first meals I made that wasn't a total failure, and they've been a staple in our meal rotation ever since. It's fun to play around with different combos and flavors; any protein/cheese/veggie combo you like.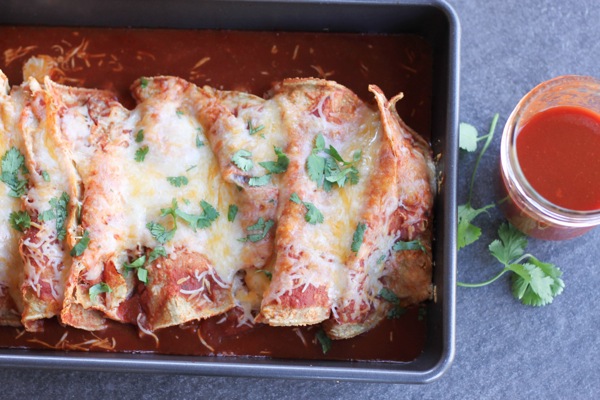 I've always been a fan of canned enchilada sauces, since they were easy and inexpensive, but they I went homemade. I'm never going back. It's very inexpensive to make a huge batch, and you can freeze it to have on hand when the enchilada urge strikes. I was originally going to save this for butternut squash and black bean enchiladas later in the week, until I made this sauce. Enchiladas happened right then and there, for lunch. With margaritas.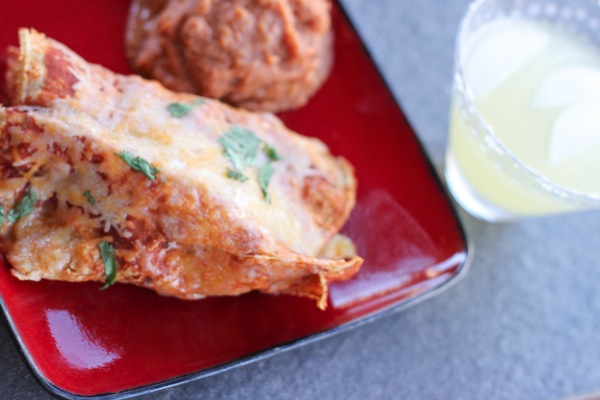 I couldn't figure out why some enchiladas were better (to me) than others, and then it finally hit me. Tomatoes. Some have them, some don't. I like it better with that little bit of tomato zing. You can skip the tomatoes (and just use broth + some flour) to make a gravy type sauce, but I like the bright color and flavor of the tomatoes.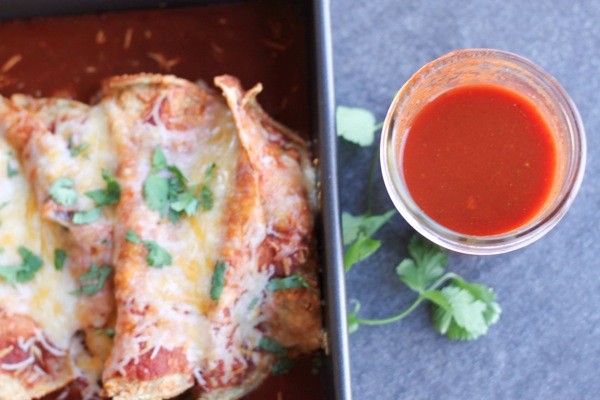 What takes this sauce over the top is the soaked chipotle chilies; they add a robust smoky flavor.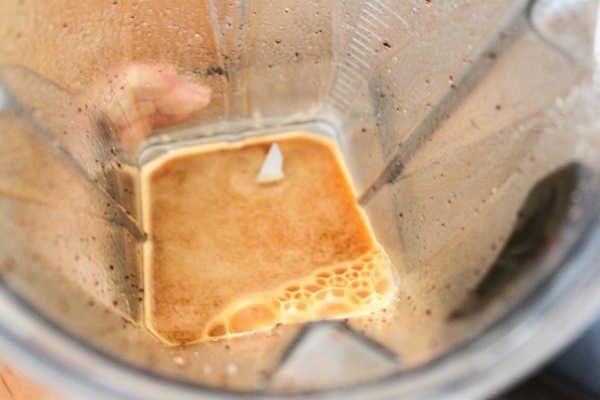 Next time you want to impress someone, make some of these enchiladas. While they're not fancy, they have a way of covering your soul in a blanket of happiness. Comfort food at its best! And if your husband is like mine, he won't speak the entire time he's eating them. Time wasted speaking is time you could be eating ?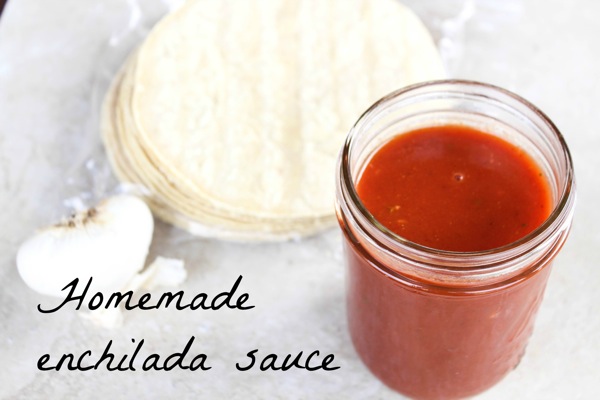 Because of the vibrant color, it's also a great option for holiday dinner. We usually do enchiladas, tamales, beans and rice at our house for Christmas.
Hope you and your family enjoy!
Print
Homemade red enchilada sauce
A smoky and bright sauce to use for your favorite enchilada recipe. A thousand times better -and just as inexpensive- than the canned stuff!
Prep Time:

15

Cook Time:

15

Total Time:

30
Scale
Ingredients
1

–

2

dried chipotle chilies, soaked in water overnight

2 cup

s chicken broth

2

cans (15 oz each) of tomato sauce

3

cloves garlic

2 teaspoon

s oregano

2 tablespoon

s chili powder

1 teaspoon

cumin
salt to taste (i used about 1/4 teaspoon since my chicken broth was salted)
Instructions
Blend the chipotle chilies in a high-speed blender with the chicken broth. Set aside.
In a large pot on medium low heat, sauté the garlic in a little butter, just to release the aroma.
Add in your spices and salt, and coat the garlic with the spice mixture.
Reduce the heat to low, and stir in the tomato sauce.
Add the broth mixture and whisk well for a smooth sauce. Cook over low heat for about 10 minutes for the flavors to mix.
Taste and adjust seasonings as necessary.
Use in your favorite enchilada recipe!
Notes
For these photos, I used the same method to cook the enchiladas as I did in this post: http://fitnessista.com/2009/08/shrouded-in-a-cheese-blanket/ (from four years ago!)
I just used this red sauce instead of making the white sauce.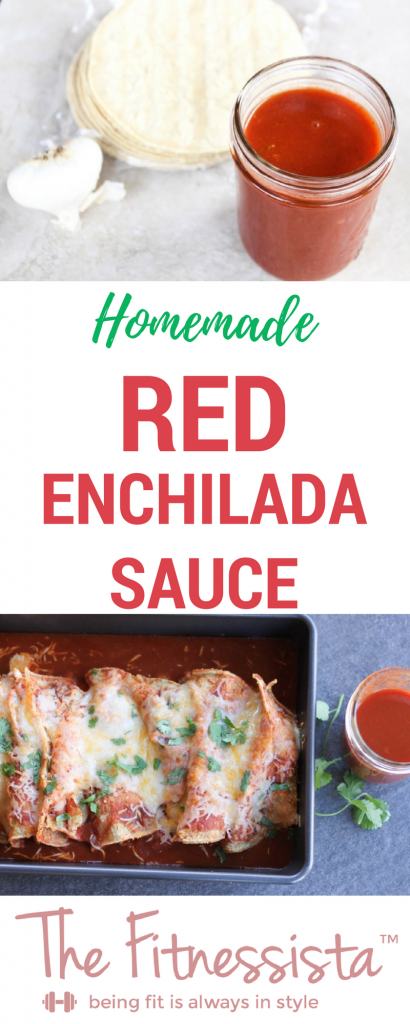 Favorite Mexican food? What does your family usually eat when they get together for the holidays?