Word on the street is that there's an important football game this weekend. ? I've got the perfect healthy Super Bowl appetizer for you: buffalo hummus dip!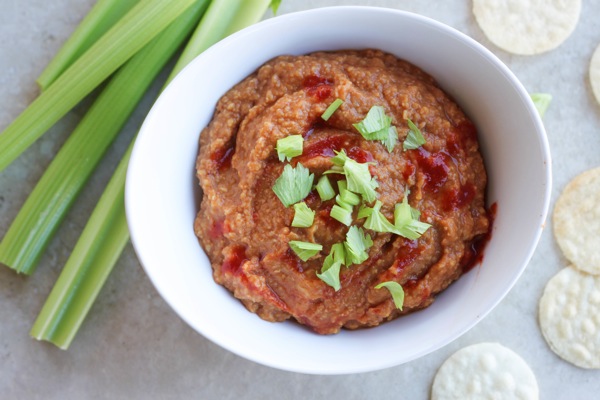 Don't ask me who's playing, because I have no idea. (In my defense, I'm not a football fan at all but I could tell you the top 10 college basketball teams without hesitation.)
I do know that I'll be enjoying a party and delicious savory food with friends and family, so that's all that really matters. Oh, and the commercials. I live for Superbowl commercials.
Healthy Super Bowl Appetizer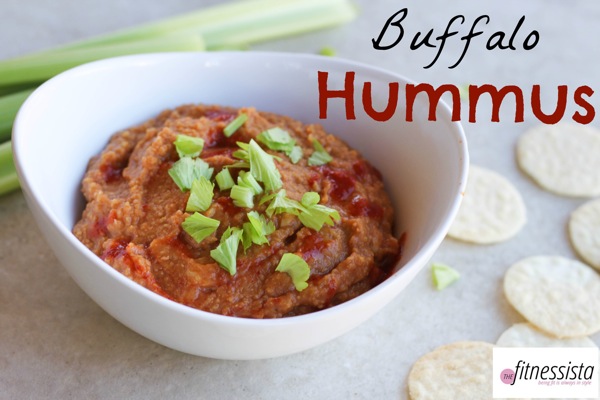 I was looking for a way to add some spice to our usual weekly hummus. Since Livi and I both enjoy spicy things – she asks for "spicy bite" which is sriracha on her eggs every morning – a spicy kick was the first idea to come to mind.
It's kind of a pet peeve of mine to read "you have to make this! omg. right this very second!!" on my favorite blogs because usually I'm quickly skimming posts during naptime or before bed. But, I'm going to go ahead and say it. You have to make this.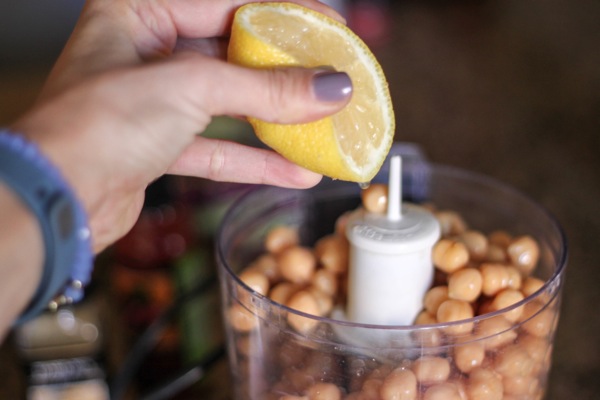 Livi and I ate almost the entire batch as our afternoon snack. Hope you enjoy it as much as we did!!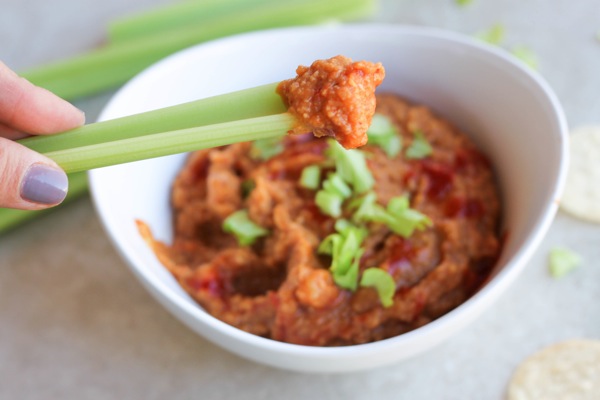 Print
Buffalo Hummus
A savory, bold snack option for your next party! This vegan dip is naturally low in calories and absolutely delicious.
Prep Time:

5

Total Time:

5
Ingredients
-One can (15 oz.) of garbanzo beans, halfway drained (keep half the liquid in the can)
-Juice of 1/2 lemon
-1/2 teaspoon smoked paprika
-1/4 teaspoon garlic powder
-1/4 teaspoon sea salt
-2 tablespoons of your favorite BBQ sauce
-1-2 teaspoons of your favorite hot sauce (depending on how spicy you'd like it!)
Instructions
1. Add the chickpeas and half of the liquid from the can into a small food processor or blender.
2. Add the remaining ingredients and blend until smooth.
3. Garnish with a drizzle of hot sauce, some chopped celery leaves and serve with celery sticks and your favorite cheesy crackers.
Notes
This would also be fantastic on a wrap with chicken, crumbled goat cheese and salad greens!
Are you cooking for the Superbowl? What's your favorite game day appetizer or snack??
Here are some ideas if you're looking for inspiration:
–Buffalo chicken bites
–Vegan spinach artichoke dip and my favorite salsa
–Sweet and savory almonds
–Skinny 7 layer dip
–Sweet potato and black bean chili (the classic never dies)
–Sweet potato nachos
–Edamame and black bean salad
–Baked zucchini sticks
–Coconut bean dip
–Parmesan and garlic roasted edamame
–7 layer Greek dip with toasted pita chips
Have a wonderful night!
xo
G
New post on the Fashion page! Meg's top knot secrets are revealed.