Nothing like a Tuesday night fancypants (yet easy!) dinner after a hot barre class.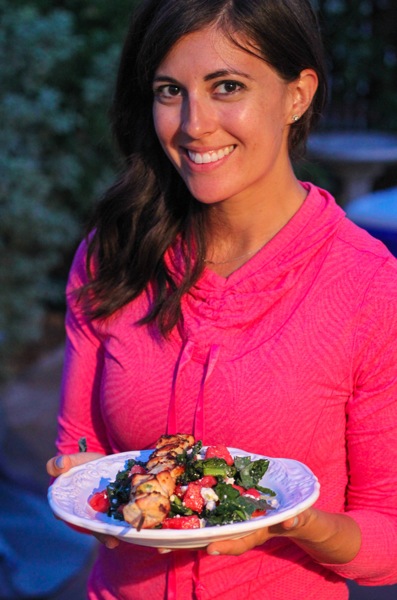 (Hot barre! Not to be confused with the Whole Foods meal, but equally delicious and a rare form of workout torture/triumph.)
Ok, and wine too ?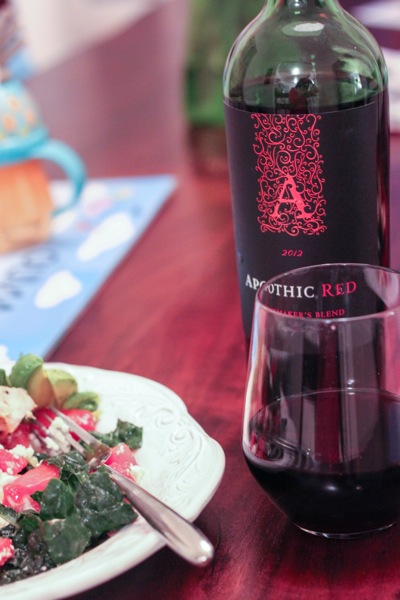 Even though it was a little lonely preparing this meal by myself instead of with these shenanigan buddies…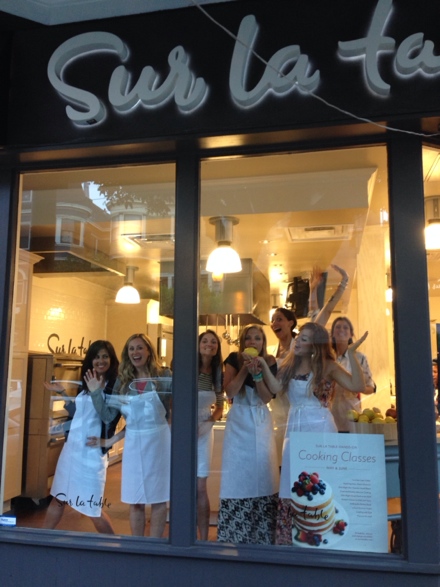 (photo from Sarah)
During the Stitch Fix and LUNA cooking party at Sur La Table, we had the opportunity to make a fantastic and healthy summer meal: kale salad with feta and pickled watermelon, quinoa, citrus-marinated chicken skewers and chocolate lava cake. The cooking party was so much fun -surrounded by blogger friends and all the wine- and our instructor, chef Stephan, led us through each of the dishes along with accompanying chants. ("MASSAGE THAT KALE! MASSAGE THAT KALE!" It made perfect sense at the time haha.) They kindly gave us printables of the recipes to share on our blogs! I decided to whip up the meal here at home so Liv and the Pilot could enjoy it, and share the recipe love ? This would be a perfect summer dinner party menu, especially because everything can be made in advance. I usually prep are dinners during naptime, so for this one in particular, all that was left to do was grill the chicken and serve.
Just a little naptime watermelon pickling: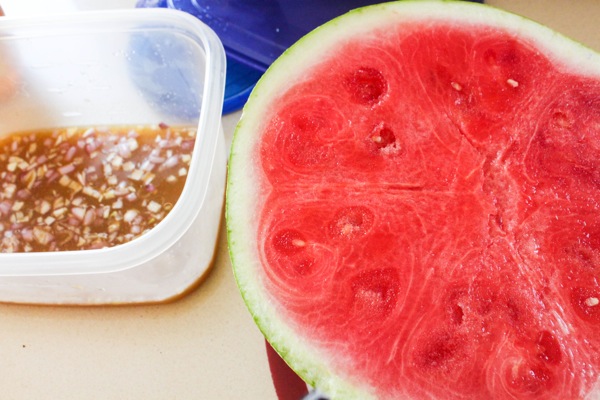 made the marinade and chopped the chicken,
and I halved the recipe for the lava cakes, which made 2 regular-sized and a kiddo's dessert.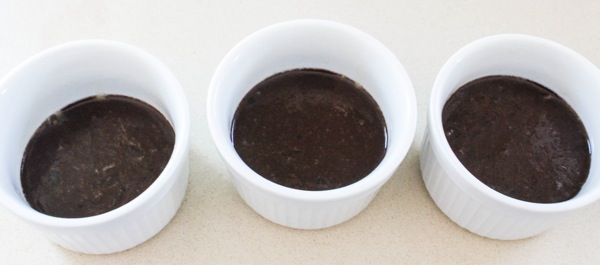 (Didn't get a pic of them after baking because they lasted about 12 seconds.)
When the Pilot got home, I quickly assembled the salad,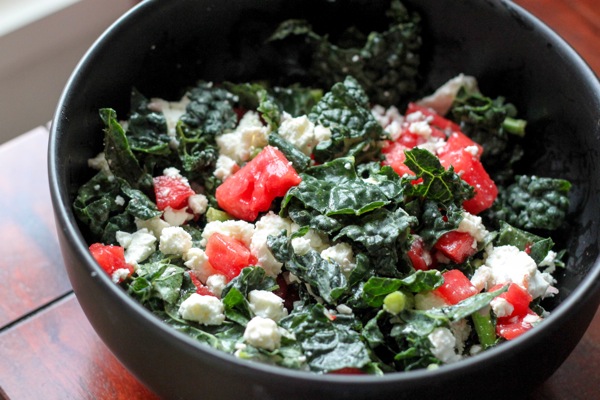 he grilled the chicken,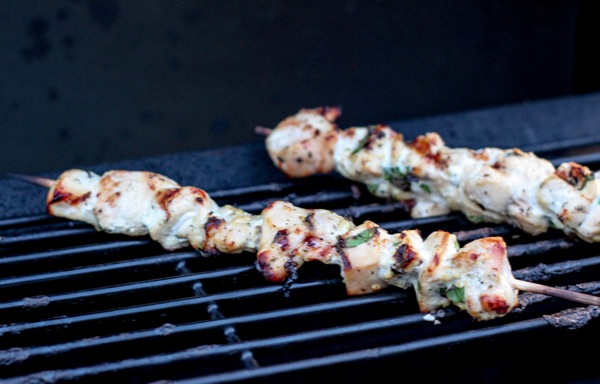 and dinner was served!
Here are the recipes if you'd like to give them a whirl at home:
Print
Kale salad with pickled watermelon and feta
A sweet, savory and refreshing twist on the usual kale salad.
Author:
Prep Time:

10

Total Time:

190
Scale
Ingredients
Pickled watermelon
1 cup

champagne vinegar

1/4 cup

lemon juice

2 tablespoon

s finely minced shallot

2 tablespoon

s honey

1 teaspoon

ground coriander

2 cup

s 1″ diced seedless watermelon
Vinaigrette
1/2 cup

reserved pickling liquid

1/2 cup

olive oil
Kosher salt
Salad
2 cup

s thinly sliced kale (curly green kale or Tuscan)

4 oz

soft feta, crumbled
Freshly ground black pepper
Instructions
To pickle watermelon: Combine pickling ingredients and toss diced watermelon to thoroughly combine. Let marinate for at least 3 hours.
To prepare salad: Combine reserved pickling liquid and olive oil. (During class, we used equal parts pickling liquid and olive oil.) Toss kale leaves with just enough vinaigrette to lightly coat. Gently massage the kale by hand to tenderize, about 1-2 minutes. Taste and adjust seasonings.
To assemble salad: Arrange dressed kale on salad plates. Garnish with pickled watermelon, feta and shredded mint. Grind fresh black pepper on top.
Print
Grilled citrus chicken skewers with quinoa
Chicken skewers with a bright citrus kick. These are fantastic for summer grilling parties!
Author:
Prep Time:

20

Cook Time:

20

Total Time:

40
Scale
Ingredients
Citrus marinade
1 teaspoon

crushed garlic

2 tablespoon

s lemon juice

1 tablespoon

olive oil

1 tablespoon

lemon zest

1 tablespoon

orange zest

1 tablespoon

fresh thyme, roughly chopped

1 teaspoon

kosher salt
Grilled chicken skewers
4

(4-oz) boneless, skinless chicken breasts, cubed
Kosher salt and black pepper
Quinoa
Olive oil

1/4 cup

finely minced onion

2 cup

s quinoa

2 cup

s chicken stock or vegetable stock

1 teaspoon

kosher salt (or to taste)
Instructions
To marinate chicken: Combine marinade ingredients and toss with chicken to combine. Set aside to marinate at room temperate for 15 minutes before grilling.
To prepare quinoa: Heat heavy sauce pot over medium high heat. Add enough oil to coat the bottom of the pan. Add the onions and sauté until tender and golden brown. Add quinoa to the pot to toast for about 30 seconds before adding the broth. Bring to a boil, reduce the heat to a simmer and cover. Cook for about 15 minutes.
To cook chicken: Add the chicken cubes to skewers (soak the skewers in water to prevent burning). Grill at 375 until fully-cooked.
Print
Chocolate lava cake
A decadent and inherently gluten-free dessert
Author:
Prep Time:

10

Cook Time:

10

Total Time:

20
Scale
Ingredients
4 oz

unsalted butter

6 oz

roughly chopped bittersweet chocolate

3

large eggs

1/3 cup

granulated sugar

1/8 teaspoon

kosher salt
Instructions
Preheat an oven to 375 degrees and grease 4 ramekins with butter or nonstick spray.
Prepare a double boiler over medium-low heat. Combine the chocolate with the butter in a medium bowl and melt, stirring occasionally, until melted and smooth. Remove from heat.
While the chocolate is melting, whisk eggs and sugar together until pale yellow and thickened.
Fold chocolate, egg mixture and salt together until just combine. Divide batter among buttered ramekins and bake until the edges are set but the center is underdone, about 10 minutes.
Notes
Serve with a dusting of powdered sugar
Hope you love them as much as we did!
Don't forget to enter the Week 2 giveaway here.
Happy humpday <3