March Madness is officially heeeeeeere. I look forward to this all year, and it always go by so quickly! Trying to savor it. I've spent some time this morning working on my bracket, and do this every time a Sportscenter announcer says they believe Arizona will make it to the Final Four.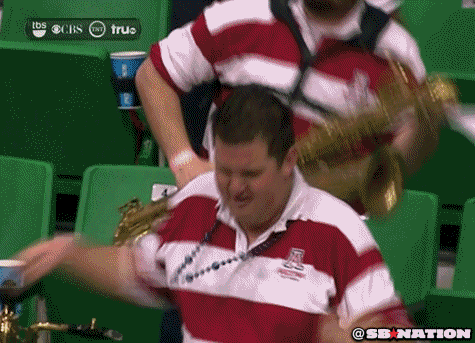 (This is my favorite band member and he has the SWEETEST dance moves. Never graduate.)
Today was pretty chill. I taught BODYPUMP -and switched it up by using some older tracks- and took Livi her gymnastics class.
This is the latest Suja obsession: it tastes like a creamy dessert. I'm going to try and replicate it at home.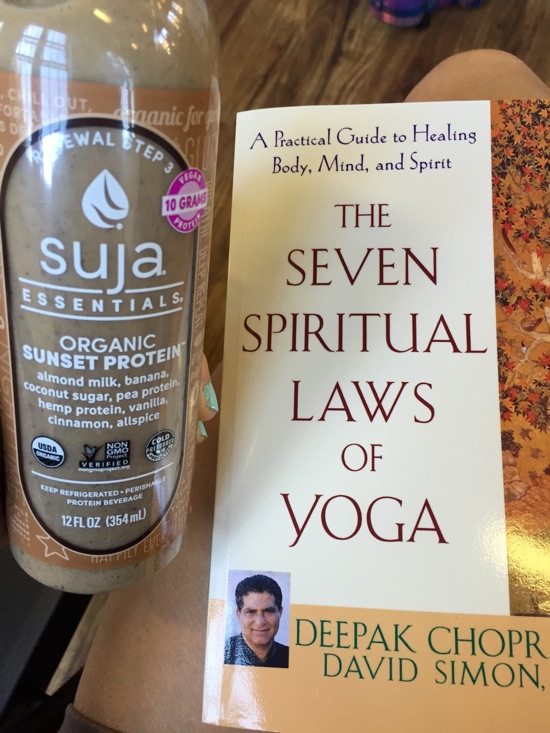 Breakfast this morning was leftovers from last night, which turned out 283748x better than I anticipated. I mean, if you're going to put goat cheese and egg together in a dish and bake it, it's destined to be tasty, but this was amaaaaazing.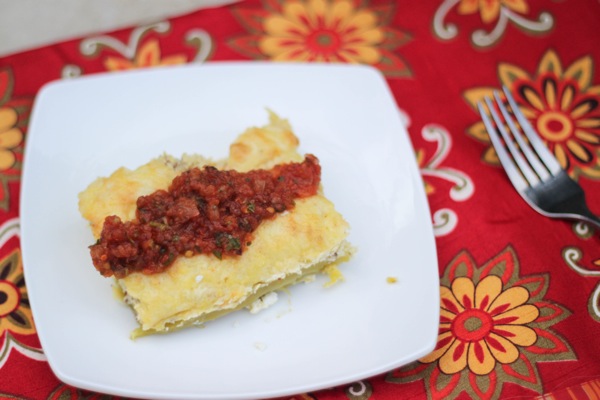 I figured we'd have plenty of leftovers to photograph this morning in the sunlight, and we ate more than half the pan. The Pilot and I happily finished it this morning. ?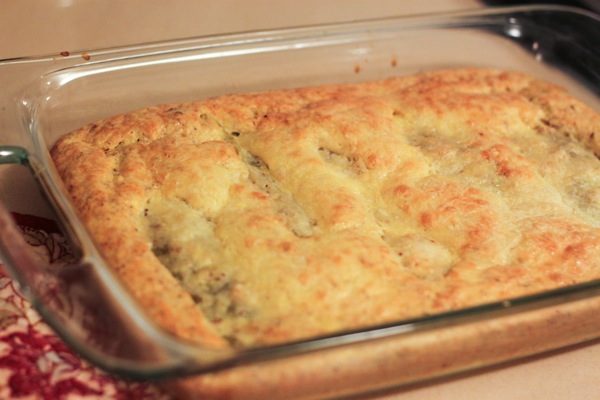 I'm happy everyone in the family seemed to love it. We've been in a bit of a chicken rut lately, and I've been trying to explore some different options. Grilled chicken or salmon has become our default, and I used to make so many vegetarian dinners on a regular basis. I'm trying to add some spice back into the rotation.
Since Easter is just around the corner, and visions of my nana's famous egg dish dance in my head, I thought I'd whip up something similar, using my favorite cheeses (goat cheese and Manchego!) and also make it gluten-free for my gf friends. If you're looking for a spring brunch idea, or just trying to switch up the dinner rotation, I must say that this is an excellent choice.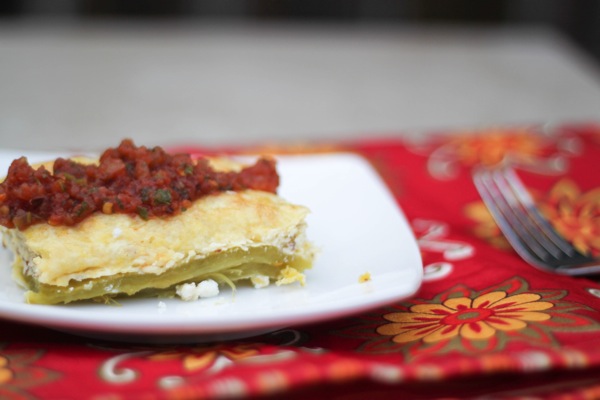 The bottom layer is creaming goat cheese, layered with savory green chiles,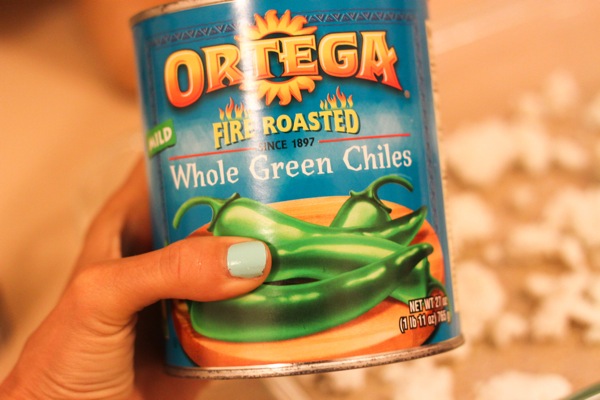 fluffy egg, and golden cheese on top. It's delicious by itself, but especially amazing with chunky salsa and wrapped in a tortilla.
Just dooooo it.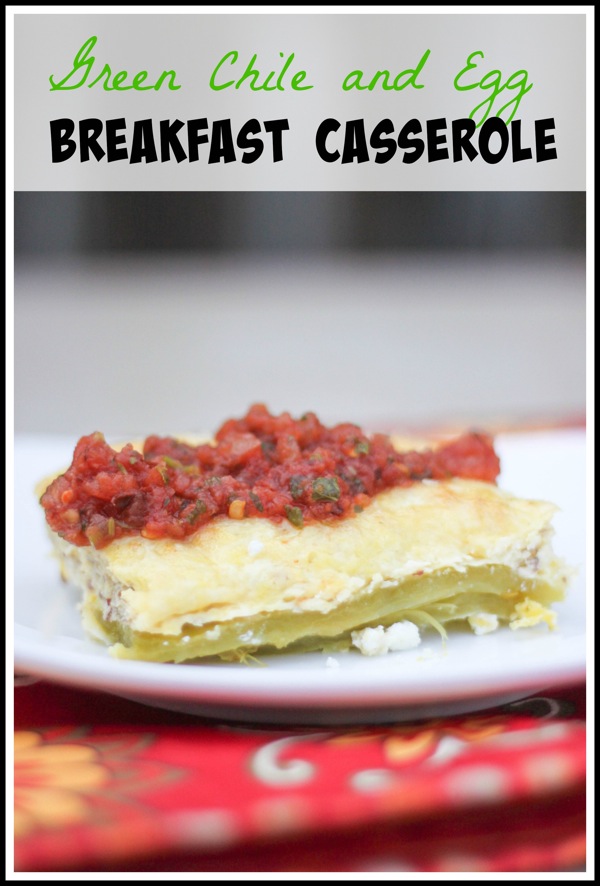 Print
Green chile breakfast casserole
A savory breakfast option, and is perfect to make ahead for family parties and brunches. Serve with fresh fruit, tortillas for wrapping and salsa.
Prep Time:

10

Cook Time:

40

Total Time:

40

Yield:

8

1

x
Scale
Ingredients
5 oz

creamy goat cheese

5

whole green chiles

8

eggs

1/2 cup

almond meal

1/2 teaspoon

baking powder
Salt, pepper, and garlic powder

1/4 cup

almond milk

1 cup

grated manchego
Instructions
1. Preheat the oven to 350 and spray a 13×10 inch baking dish with olive oil or nonstick spray.
2. Crumble the goat cheese and distribute evenly on the bottom of the dish.
3. Gently place the green chiles on the dish, using more as needed. (You don't need to cover the bottom of the dish entirely.
4. In a large bowl, whisk the eggs and almond milk. Whisk in the almond meal, baking powder, and season well with salt, pepper and garlic powder.
3. Stir in 1/2 cup of the manchego and pout the mixture into the baking dish.
4. Top with the rest of the manchego.
5. Bake for 35-40 minutes until golden brown and set.
What did you have for breakfast today? Are you into March Madness or notsomuch? Who's your team??
Have a great night! See ya in the morning with a new workout.
Check in with today's workout here!
More beloved eggtastic breakfast recipes:
Breakfast rellenos
Fiesta breakfast casserole
Eggs in a basket (Whole30 style)
Cheesy broccoli egg muffins
Something to think: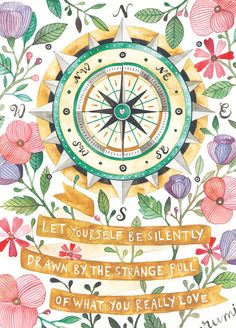 (source)