This Harvest Breakfast Scramble is the protein-packed breakfast that will power you through you day and give you all the fall feels.
Today we're hanging out at home, maybe venturing to the zoo, and going to run a few errands. I'm also looking forward to the weekend.
This is insanity but the past couple of days, I've woken up BEFORE my alarm. This is an act of magic. I want to run around high-fiving everyone, except everyone else is sleeping!! WHAT. (Ok, except the Pilot but he leaves for work super early.) I don't even know what to do first. Answer emails? Drink tea in the glorious silence? Or even make a real breakfast for everyone!! Liv woke up to pancakes that weren't pre-frozen (I usually make huge batches of these pancakes to freeze for the girls), and I was actually dressed in real human clothes. Most days I'm at preschool drop-off in the shirt I slept in, and praying we're not late so I don't have to walk into the office.
Harvest Breakfast Scramble
For today, I have a quick and easy savory breakfast recipe for ya. This is one of those things I made on the fly, mostly because I really wanted a high-protein breakfast that wasn't just eggs. I picked up some turkey sausage from Whole Foods, and remembered this awesome harvest turkey meatloaf from last year. (I highly, highly recommend it!! It's an awesome fall dinner with roasted veggies and mashed sweet potatoes).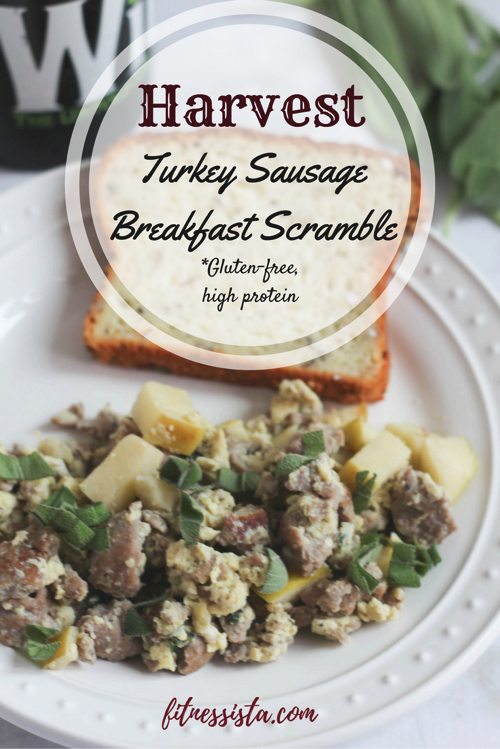 (Let's put sausage down under the least attractive food to photograph. Let's just roll with it.)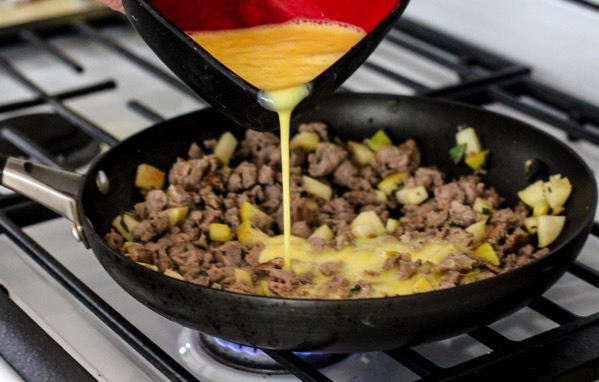 I decided to inject a little fall spirit into my egg scramble, and it basically tasted like healthy Thanksgiving on a plate.
Here's the quick recipe if you'd like to give it a try!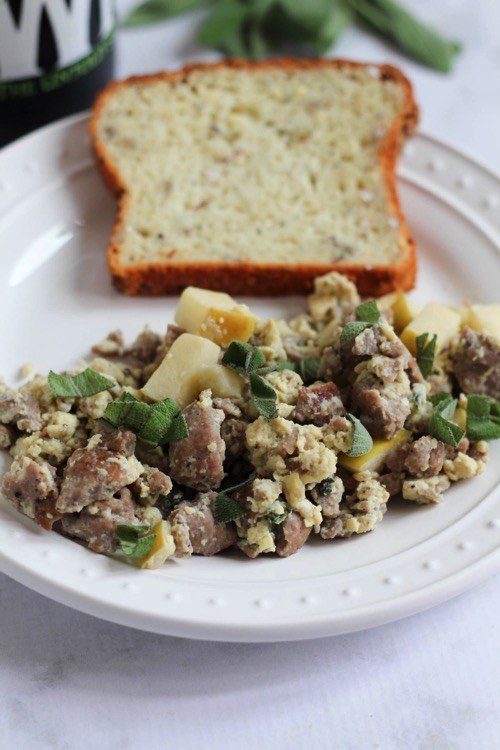 I've been enjoying this with toast, or in a bowl with an extra over easy egg on top.
Print
Harvest Turkey Sausage Breakfast Scramble
Scale
Ingredients
1

chopped green apple

1/2

sweet onion

2

ribs of celery, chopped

3

cloves of garlic
One package turkey sausage (four sausages), diced

4

eggs

2 tbsp

chopped sage
salt and pepper to taste
Instructions
Saute first four ingredients in olive oil and season well with salt and pepper.
After they're soft (about 5 minutes), stir in one package of turkey or chicken sausage and brown until cooked through.
Add in 4 whisked eggs, season with salt, and gently flip the eggs, scrambling them with the sausage. Stir in two heaping tablespoons of fresh sage. Top with extra pepper if you'd like.
SO good.
Hope you have a wonderful day and I'll see ya soon on the Family page.
xo