Oh friends, do I have a dessert for you, just in time for today's holiday.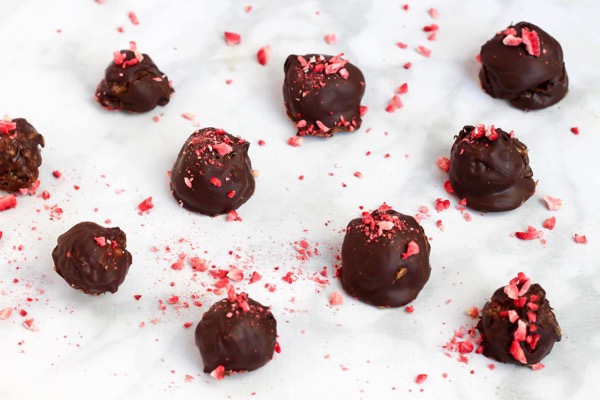 What are you doing for Valentine's Day? Any fun plans?
The Pilot and I celebrated a little early and had an amazing date night on Saturday: we went to the casino, ate at an awesome steakhouse (and shared our very favorite wine!), and gambled (<— not well, but still a ton of fun). There was a Tejano band playing, so needless to say, I was loving it.
Tonight should be a little more low-key, but I'm excited to spend the day with my little Valentines and take them on a fun adventure.
Yesterday, we made a family trip to the floral shop, and the fam picked out this amazing Valentine's bouquet + a rose for Livi.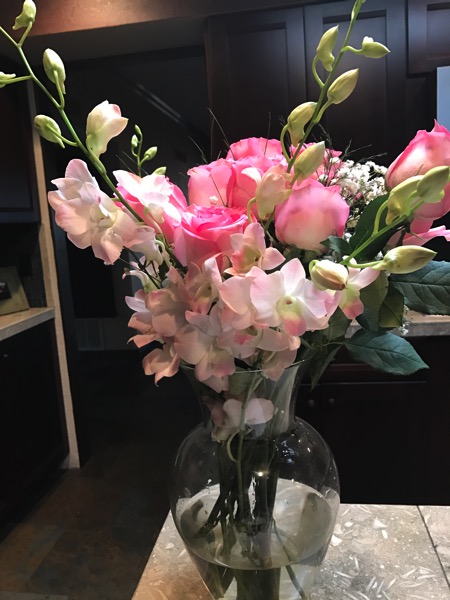 Flowers + chocolate are the perfect V-day (or any day?) combo, and I'm super excited to tell you about these truffles.
Crunchy Chocolate Strawberry Truffles
I made these little truffles last week, and they didn't last 24 hours. Everything about them is perfect: they're crunchy, sweet, and taste extremely decadent, even though they're pretty low in sugar. Liv went crazy for them.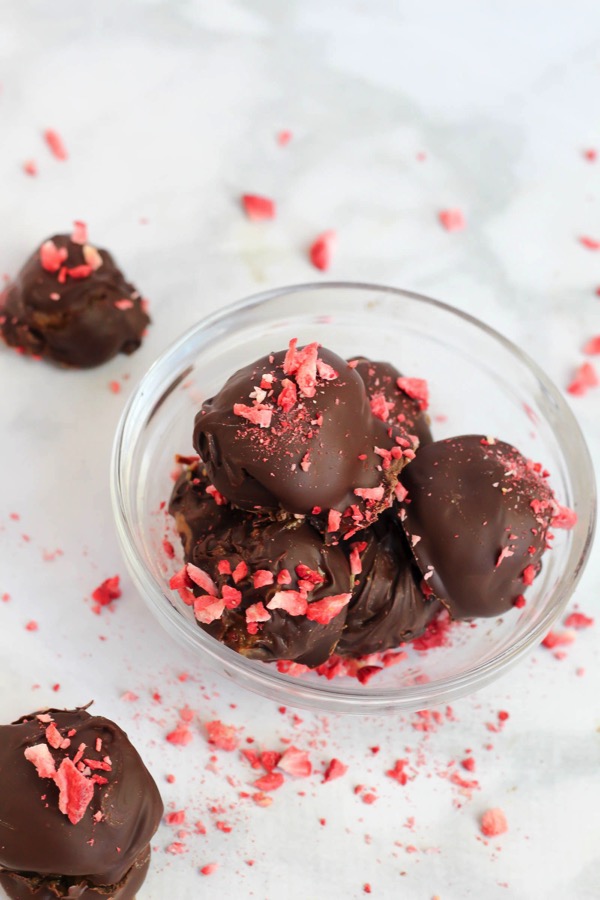 If you're looking for a little chocolatey treat, I've got you.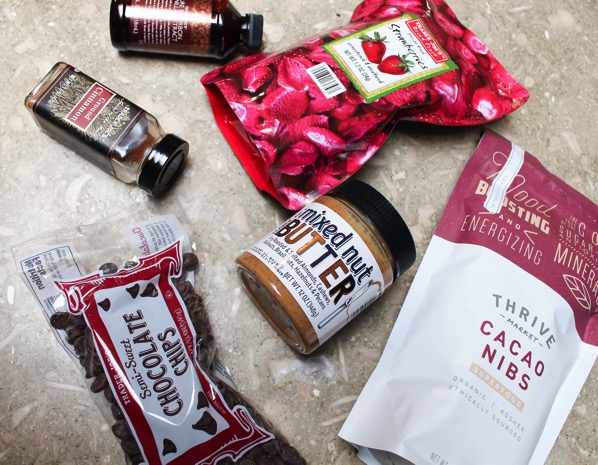 First you start with a creamy nut butter base.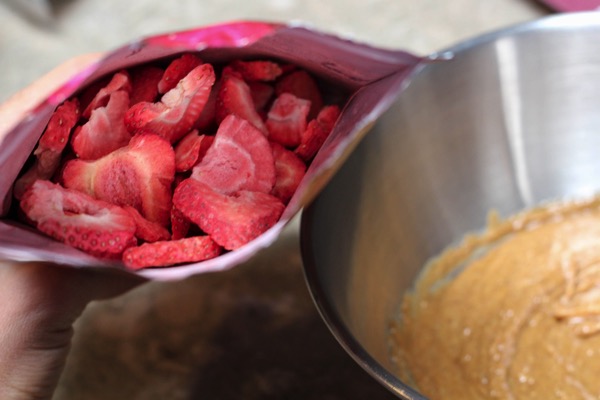 These dried strawberries add awesome flavor and crunch, which providing extra nutrients. You mix, put the mixture in the fridge for a little while,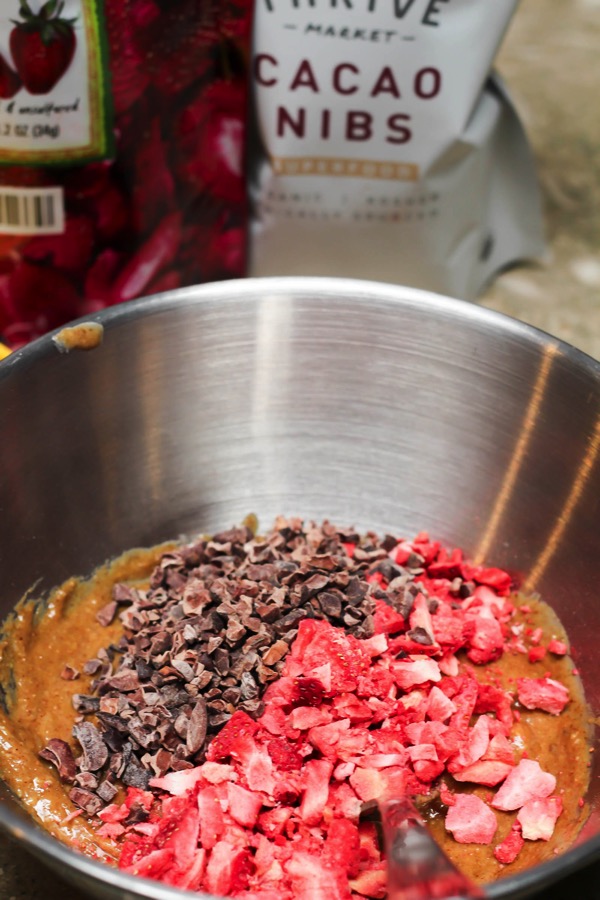 then you roll into balls. It's a little messy, but life is hard sometimes.
We could stop here, but to take it over the top, they need a chocolate coating.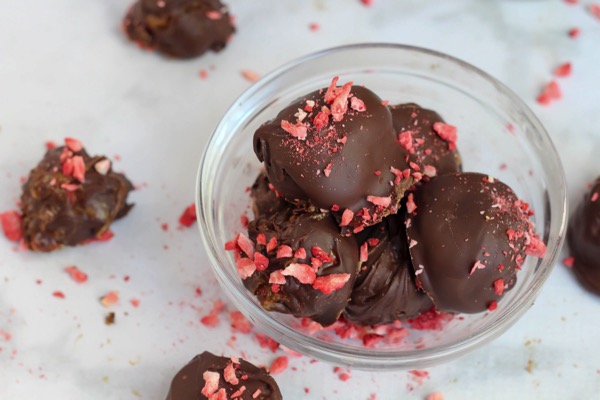 Dip the balls in melted chocolate, sprinkle extra dried strawberries on top, and boom.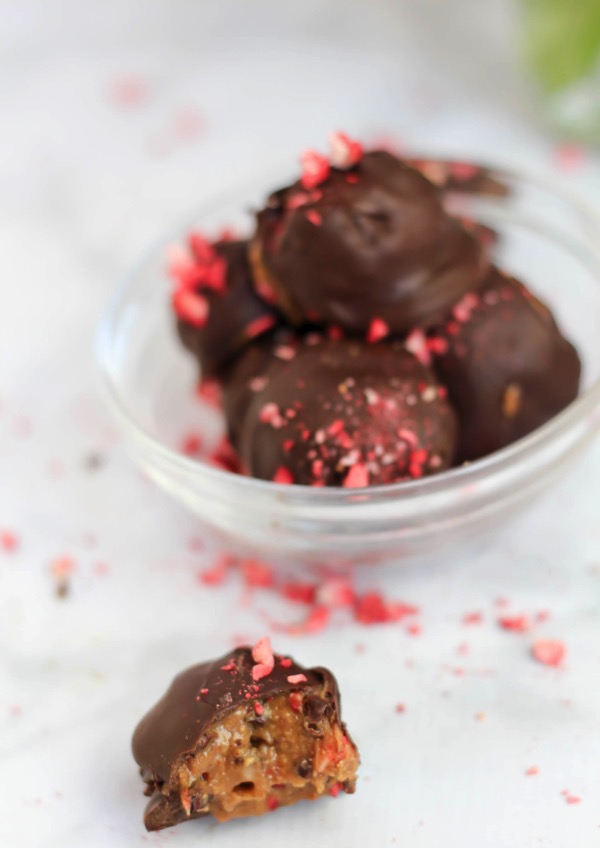 A sweet little something for your Valentine… or yourself. Self love is important, too. ?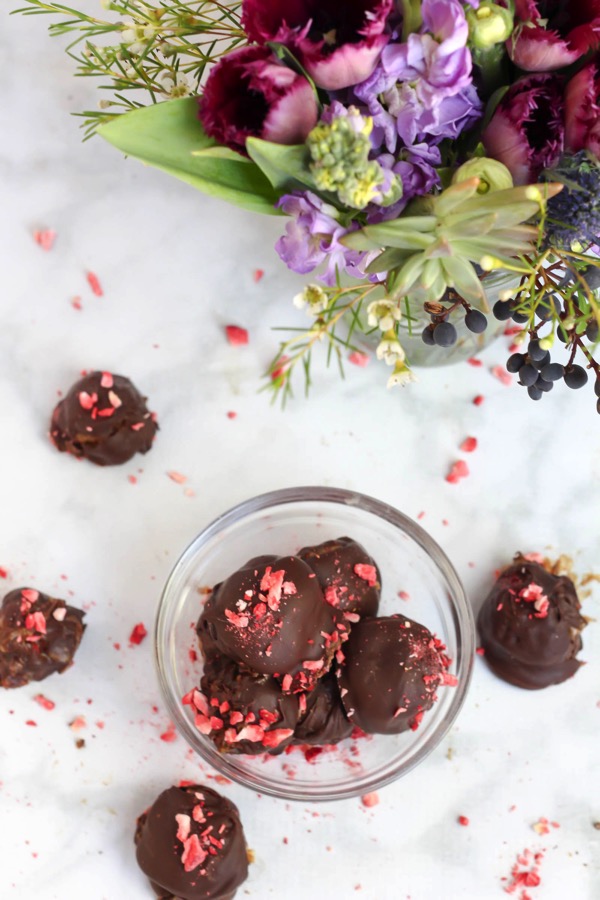 Here's the simple and DELICIOUS recipe if you'd like to give it a try!
Print
Crunchy Chocolate Strawberry Truffles
Scale
Ingredients
6 oz

nut butter

1 tablespoon

coconut oil

2 tablespoon

s maple syrup
Splash of vanilla
Sprinkle of cinnamon

1/2 cup

freeze-dried strawberries, chopped (+ extra for garnish)

1/4 cup

cacao nibs

6 oz

semisweet chocolate chips
Instructions
In a large bowl, combine the nut butter, coconut oil, maple syrup, vanilla, and cinnamon, and mix well.
Gently stir in the cacao nibs and strawberries.
Place in the fridge for 15 minutes to lightly set.
Roll into 10-12 balls, using your hands. (Caution: it will be a little mess. Just roll with it.)
Place in the fridge while you prep the chocolate. Using a double-boiler, or a glass bowl in the microwave for 30-second increments, melt the chocolate chips until smooth.
Use a fork to dip each ball in the chocolate, and cover completely, before placing on a parchment paper-lined cookie sheet. Repeat the process for all of the truffles.
Place in the fridge to set, and store covered in the fridge.
Who's your Valentine this year?? Do you go for chocolate desserts or more ice cream/frozen fare? I always choose the chocolatiest thing on the menu.
Have a wonderful day and I'll see ya soon.
PS. Exciting news: my friend Courtney and I are having a joint Usborne and Beautycounter online party this Thursday night. Check out the details here if you'd like to join us! We have some fun giveaways planned, and it's a great way to get to know these two amazing companies.