Hi friends! How's your morning going? Thank you so much to those of you have entered the giveaway (now over). Today I have a tempeh recipe that even the Pilot enjoyed! It's a delicious warm tempeh salad with mustard vinaigrette. Scroll down for the recipe!
Bella has been itching to do something fun – I can tell when she gets cabin fever – so Livi and I took her to the dog park. It was absolutely beautiful – mid 60s! – and there were so many cute and friendly little dogs there. The fellow dog owners got the biggest kick out of Livi – the dogs were cracking her up, so she belly-laughed the whole time we were there.
The best.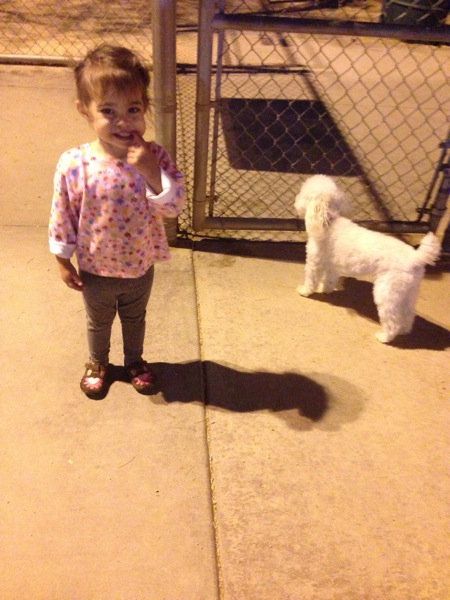 Caro is not quite ready for the dog park yet.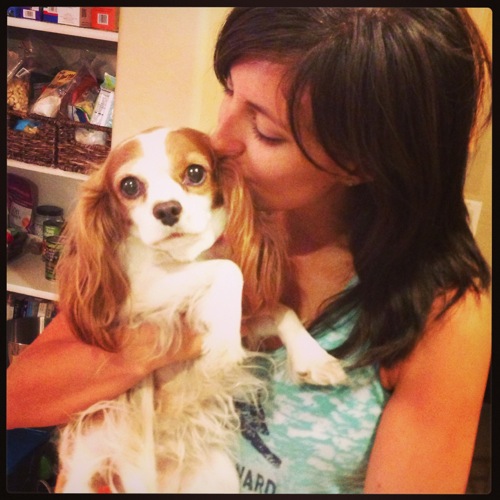 Something random that Livi and I have done a few times lately: Costco. I kind of have an obsession. It makes no sense because Costco is not really a place one should have to visit often -that's kind of the point of Costco haha- but it's fun to walk around. Ok, the samples are fun, too. ?
I picked out my snowman of the year and texted a picture to the Pilot.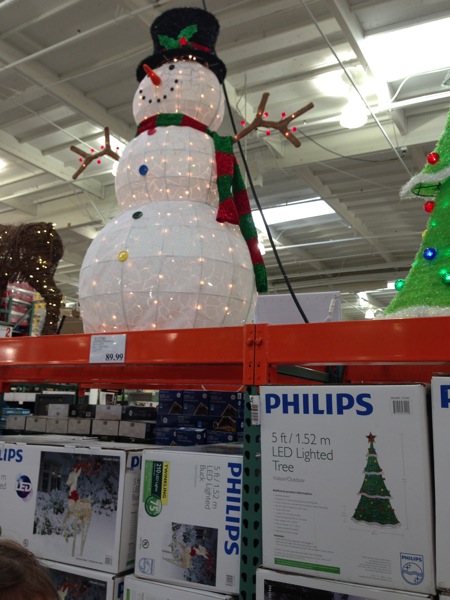 In my dream world our entire front yard is illuminated with multiple LED snowmen.
We never get many things -thank goodness- but usually someone will need something from Coscto and meet us there. It's like a family pizza meeting spot ?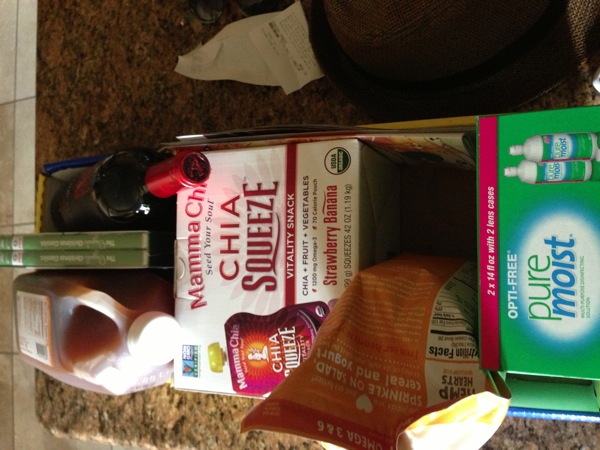 (Not pictured: Little Mermaid DVD. Livi was holding it and very excited to watch)
It's funny because some weeks are so challenging, and others feel much easier. Last week was kind of a rough one -lots of things going on- and this week has been so much fun. Some weeks are on, some are off.
Last week, I didn't get a chance to do much cooking, and this week I've been all over it.
Like with this warm tempeh salad: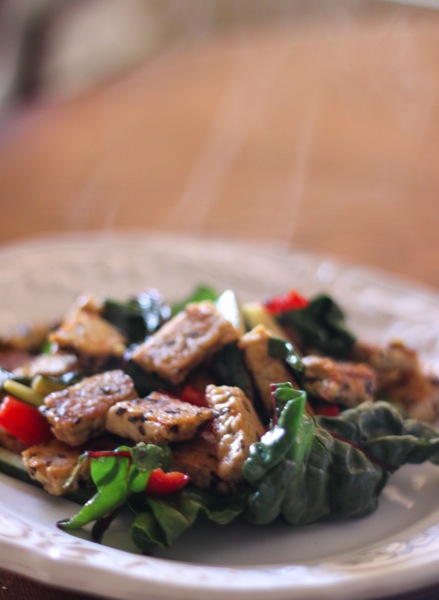 Warm Tempeh Salad
I had a block of tempeh in the fridge and I knew if I didn't turn it into bacon, nothing would happen with it.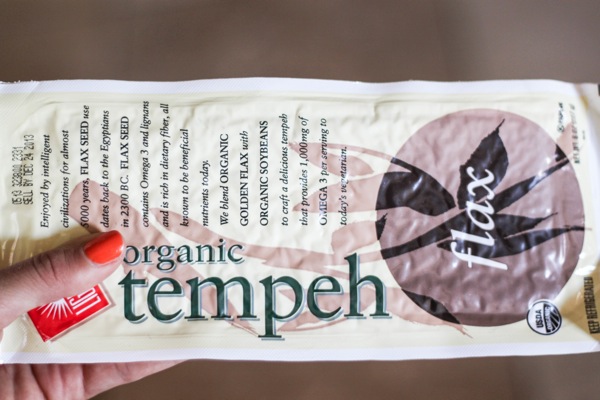 But instead, I decided to use it as the star of a warm salad, flavored with my current favorite salad dressing. It was really quick to put together and came out extremely well.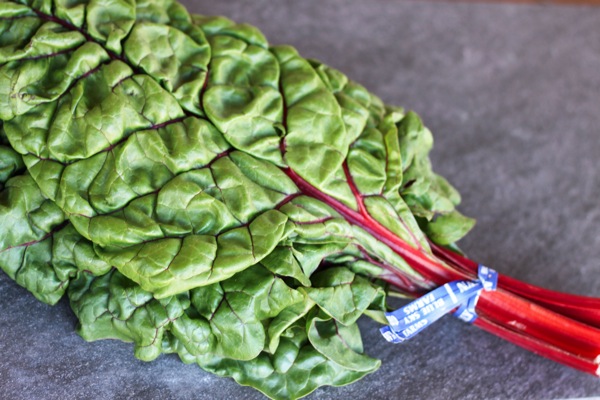 (Beautiful chard!)
The Pilot was watching a movie while I was cooking, and said, "What are you making in there? It smells amazing." He even ate a huge bowl of it, which says a lot since he isn't the biggest tempeh fan.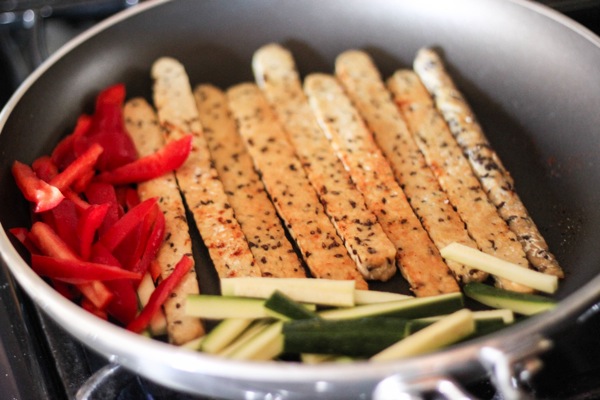 I hope you enjoy it as much as we did!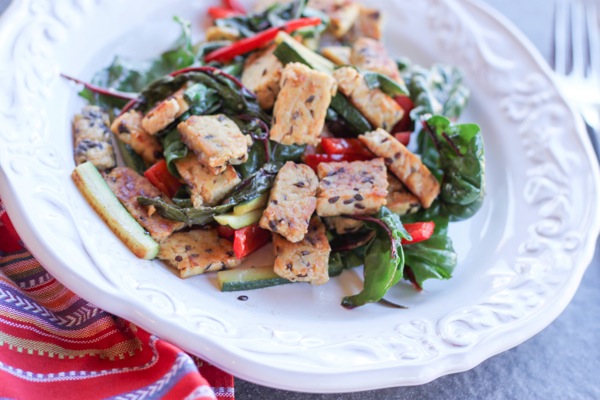 xoxo
Print
Warm tempeh salad with mustard vinaigrette
A savory warm salad, perfect for the chilly autumn months! Feel free to use your favorite protein instead of the tempeh
Prep Time:

10

Cook Time:

15

Total Time:

25

Yield:

2

1

x
Scale
Ingredients
1

block of tempeh, cut into strips

1

red bell pepper, julienned

2

small zucchini, julienned

1

bunch of swiss or rainbow chard (or

2 cup

s of spinach), ribs removed and leaves pulled into bite-sized pieces
Olive oil (or butter), salt, pepper and smoked paprika
Olive oil, salt, pepper and smoked paprika
For the vinaigrette
1/2 cup

apple cider vinegar

1/2 cup

canola oil

1 tablespoon

honey

2

cloves minced garlic

1 tablespoon

Dijon
Splash of hot sauce

1/4 teaspoon

salt

1/8 teaspoon

pepper
Instructions
1. In a large skillet set to medium heat, add some olive oil or butter and the tempeh. Sprinkle the tempeh slices with salt, pepper and smoked paprika. Cook until browned, at least 3 minutes each side.
2. While the tempeh is cooking, prepare your vinaigrette by whisking all ingredients in a small bowl.
3. After the tempeh is browned, push it aside and add a little more oil and the remaining veggies. Cook until the greens have wilted.
4. While the veggies are sautéing -remember the keep them slightly crisp and not mushy- use your wooden spoon or spatula to break the tempeh into smaller pieces.
5. Drizzle the vinaigrette on top -I use about 1/2 the mixture and save the rest for salads- and lightly toss.
6. Quickly transfer to plates and enjoy!